Governance & Management
POSPaD is governed by its Board of Directors (BoD). The Board is the key policy making and governance body of the organization and works independently. It formulates and approves policies and organizational systems and evaluates the overall performance of POSPaD on periodic basis. The BoD consists of 07 members (05 male and 02 female) and is headed by its Chairperson. POSPaD's board of directors comprises of development professionals, intellectuals, academicians, activists and media persons. The Chief Executive Officer of POSPaD serves the board as the secretary and ex-officio member.
POSPaD is led by its Chief Executive Officer who is the formal management head of the organization. The CEO reports to the Chairperson of the Board of Directors (BoD) and is responsible for the overall management of the organization. The CEO is supported by the 04-member key staff team including one Program Officer, one Monitoring, Evaluation & Reporting Officer, one Admin & Finance Officer and one Recovery Officer.
POSPaD's Administrative Organogram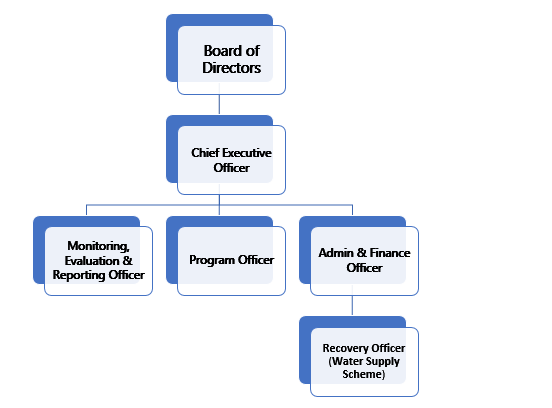 List of BoD Members of POSPaD
Muhammad Maqsood Sarwar
President
Qualifications: B.A. (Political Science)
Profession: Trading Job
Experience of Previous Jobs/Work: 18 Years
☏: +92-300-6579096
✉: [email protected]
Muhammad Mukhtar
General Secretary
Qualifications: B.A (Political Science)
Profession: Trading Job
Experience of Previous Jobs/Work: 18 Years
☏: +92-300-3690414
✉: [email protected]
Maqbool Ahmad Shahzad
Press Secretary
Qualifications: B.A.(Political Science)
Profession: Trading Job
Experience of Previous Jobs/Work: 10 Years
☏: +92-302-2077182
✉: [email protected]
Dr. Ishrat Sultana
Senior Vice President
Qualifications: MA (Political Science), MSc. (Gender & Women Studies)
Profession: Teacher, Trainer
Experience of Previous Jobs/Work: 12 Years
☏: +92-300-6540263
✉: [email protected]
Nabila Shehzadi
Joint Secretary
Qualifications: M.A (History)
Profession: Researcher
Experience of Previous Jobs/Work: 10 Years
☏: +92-301-4238255
✉: [email protected]
Muhammad Siddique
Vice President
Qualifications: B.A
Profession: Private Job
Experience of Previous Jobs/Work: 10 Years
☏: +92-334-4183198
✉: [email protected]
Shoukat Javaid
Finance Secretary
Qualifications: B.Com
Profession: Accountant
Experience of Previous Jobs/Work: 12 Years
☏: +92-301-2626612
✉: [email protected]
List of Core Management Staff of POSPaD
Muhammad Maqsood Sarwar
Chief Executive Officer (CEO)
Qualifications: M.A (Political Science)
Experience of Previous Jobs/Work: 7 Years
☏: +92-300-6579096
✉: [email protected]
Nadeem Ali
Admin & Finance Officer
Qualifications: B.Com
Experience of Previous Jobs/Work: 2 Years
☏: +92-304-4964477
✉: [email protected]
Shabbir Ahmed
Program Officer
Qualifications: MSc. (Gender & Women Studies)
Experience of Previous Jobs/Work: 3 Years
☏: +92-307-4111228
✉: [email protected]
Muhammad Aslam
Recovery Officer (Water Supply Scheme)
Qualifications: F.A
Experience of Previous Jobs/Work: 1 Year
☏: +92-308-8716750
✉: [email protected]
Tanzila Qayyum
Monitoring, Evaluation & Reporting Officer
Qualifications: MSc. (Sociology)
Experience of Previous Jobs/Work: 1 Year
☏: +92-301-5949765
✉: [email protected]